Elevate your life with fencing
University Admissions + Fencing as an Extracurricular Activity
Many colleges and universities have fencing teams, clubs, or organizations. Fencing can show employers, or college admissions officers that you have the ability to work with and lead a team, manage your time effectively, and deal with stress in a healthy and productive way.

2023 Fall Class Schedule
Classes Start Sept. 6th!
Time
Weds
Fri
4:00 - 5:30 p.m.
Youth Sabre Fundamentals
4:30 - 6:00 p.m.
Youth Sabre Fundamentals
7:00 - 8:30 p.m.
Experienced Sabre
6:15 - 7:45 p.m.
Experienced Sabre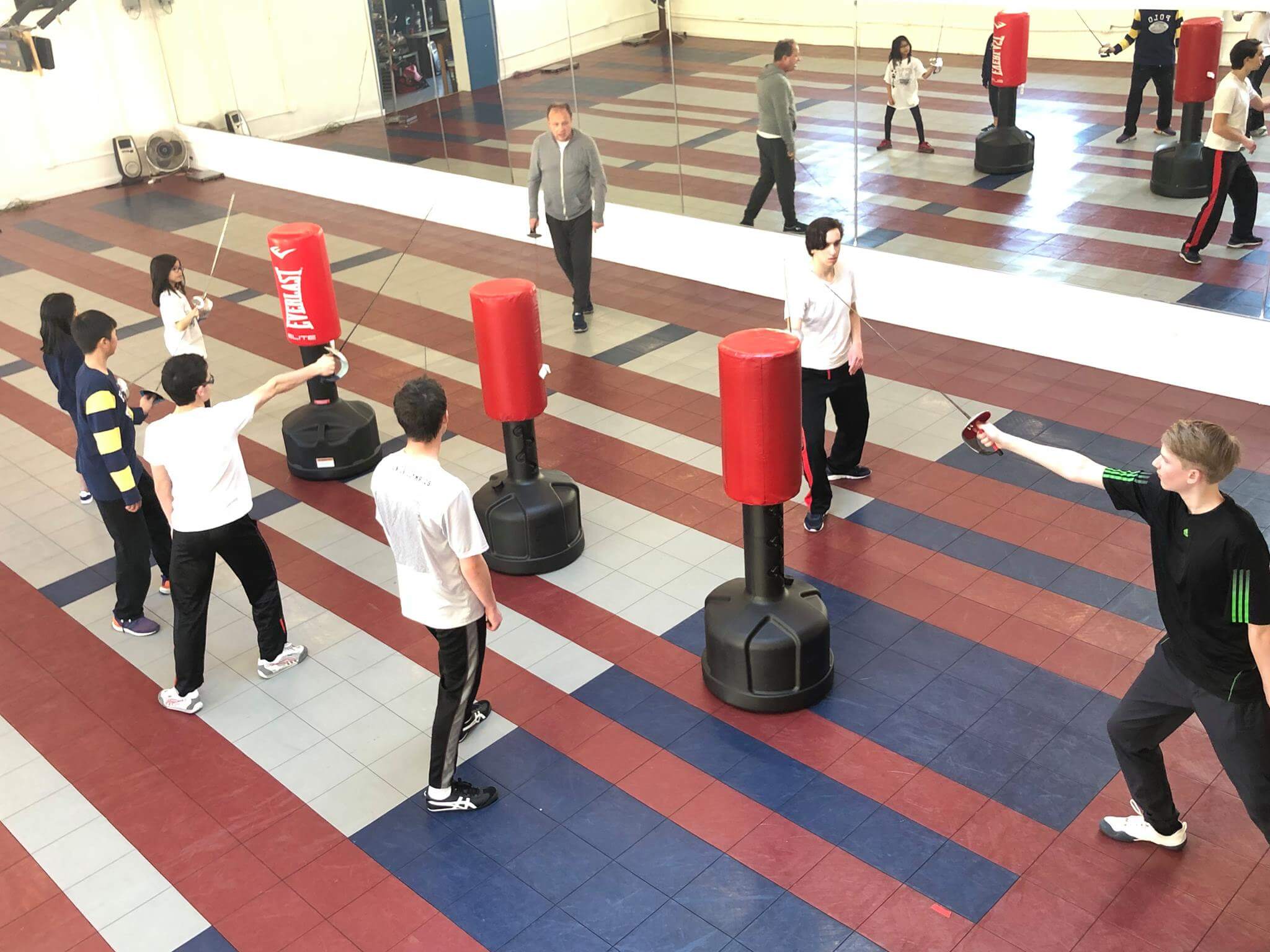 Youth Sabre Fundamentals Class:
1 class per week: $200/month
2 classes per week: $300/month
For entry level students with little or no experience in fencing
-- Fencing rules and etiquette
-- Equipment use and maintenance
-- Footwork: forward, backward, and lateral movements
-- Fight: lunge, thrust, feint, parry and riposte
-- Conditioning: strength, agility and endurance excercises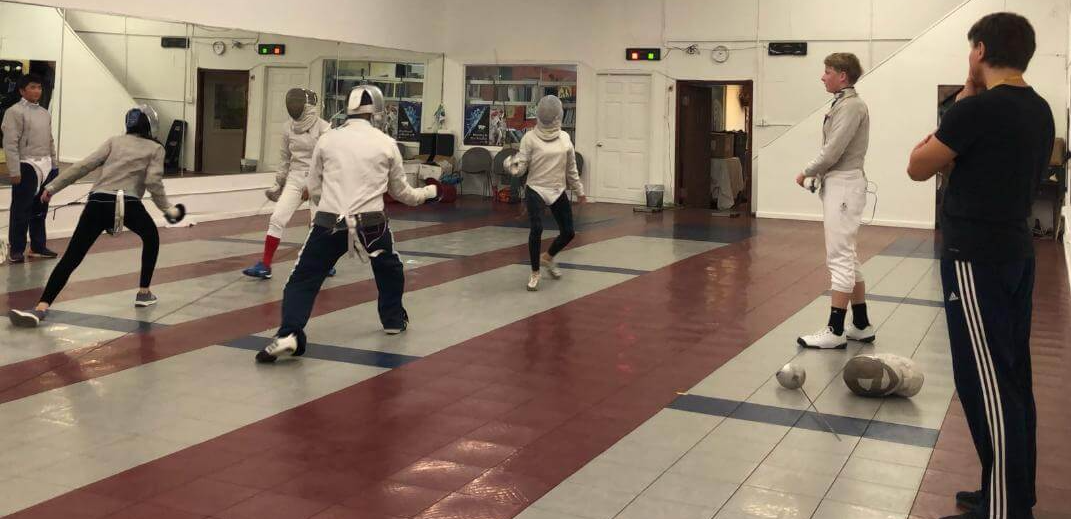 Experienced Sabre Class:
1 class per week: $200/month
2 classes per week: $300/month
For adult and experienced youth sabre students
-- Tactics and Strategy: reading the opponent and adjustment
-- Advanced Footwork: fleche, ballestra, and recovery steps
-- Complex Attacks / Parries: compound attacks, counter-ripostes / disengages
-- Sparring Practice: improving timing, speed, and accuracy
-- Conditioning: strength, agility and endurance excercises
-- Competition: local, regional, and national tournaments
-- "Access Level" U.S. Fencing Association membership needed ($25/year)
-- Private Fencing Classes available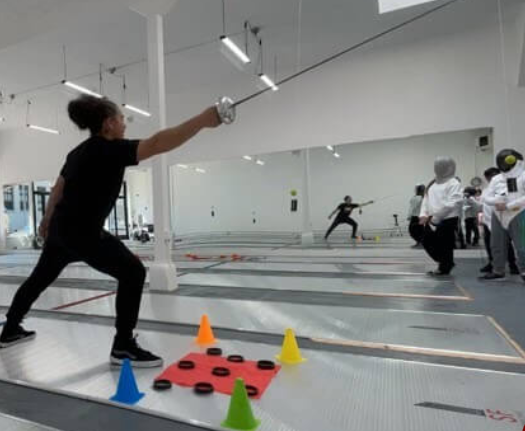 Coach Brandon
Brandon is a dynamic and creative fencing coach with over a decade of coaching experience. He has focused on coaching epee and foil, while also giving instruction in sabre, and has coached both standup fencing, and parafencing (wheelchair fencing). Brandon has trained many students to national and international medals, as well as coached Paralympians.
As a coach, Brandon focuses not only on the fundamental aspects of fencing, but also the fun. He believes in a holistic approach - teaching strength and conditioning, proper breathing, mental resilience - and a cross training approach drawing from other combat sports. He believes that everything taught on the piste, can be taken off the piste and applied to aspects of daily life.
Whether new to the sport, or a veteran fencer, training with Brandon will elevate your game.
Frequently Asked Questions
After you sign up, please feel free to attend the next class on the schedule. On your first day of fencing class, you will receive an introduction to sabre fencing taught at San Francisco Sabre School. We will go over fencing rules, techniques, and the basics based on your skill level. Overall, the first day of fencing class will be a great opportunity to try out a new sport, learn new skills, and meet new people. If attending camp, students should bring lunch and quick snacks for the day, as well as a sports drink bottle for hydration.
For the first month of fencing classes, all necessary equipment will be provided by our club. This includes a mask, jacket, glove, and weapon. However, if you are interested in continuing with fencing beyond the first month, we highly encourage you to invest in your own equipment. This will not only allow you to practice and train outside of class, but it will also ensure that you have properly fitting and well-maintained equipment. The basic equipment you will need to purchase includes a fencing mask, jacket, glove, and weapon. We can provide recommendations and guidance on purchasing equipment, and we have a variety of options available for purchase at our club along with member discounts.
Based on fencing best practices, it's recommended to wear sweatpants, leggings, track-suit type wear (avoid wearing jeans), sneakers with shoe laces for proper support and stability, and a t-shirt. It's also important to choose clothing made of breathable, moisture-wicking materials to help keep you cool and dry during your workout. Additionally, make sure to avoid any clothing that could potentially get caught in gym equipment or restrict your movement. For both camp and class, there will be floor exercises and cool downs, and students are welcome to bring a towel or yoga mat. Students should also bring hair ties, hair bands, scrunchies, or bandannas to keep hair away from their eyes if needed.
Certainly, for individuals who are interested in trying out fencing before committing to a long-term membership or training program, San Francisco Sabre School offers a "try out" package for $100. The try out will involve an introduction to the sport, basic instruction on technique and rules, and the opportunity to try out the sport in a low-pressure setting. You can register for a "try out" by clicking the try out register button on this page. This option is also open to visiting fencers who want to drop-in and practice.
The United States Fencing Association (USFA) organizes fencing competitions and tournaments for all age groups, including those in the age bracket of 6 - 87 years old. These competitions are open to both beginners and experienced fencers. The USFA has a range of different events and categories, including individual and team events, foil, epee, sabre, and age-specific events. San Francisco Sabre School is open to new, or experienced fencers aged 6 - 87. Being a member of San Francisco Sabre School, as well as United States Fencing Association allows the student to compete in tournaments if they want to.
The club amenities include a waiting lounge area, restrooms, and equipment storage. There is also a refrigerator available for storing sport drinks, protein shakes, snacks, and food, as well as a water cooler dispenser to keep you hydrated during your workout. The gym features competition-level rubber mats, which are ideal for running drills, training, and holding multiple sparring matches. Overall, these amenities provide a comfortable and convenient environment for members to train and stay nourished before, during, and after their workout.
There are many benefits to learning the sport of fencing! First and foremost, it's a great way to stay physically active and improve your overall fitness. Fencing is a full-body workout that can help improve your strength, agility, balance, and coordination. It's also a great cardiovascular exercise that can help improve your endurance and stamina.
In addition to the physical benefits, fencing also offers many mental benefits. It requires a great deal of focus, concentration, and quick thinking, which can help improve your cognitive abilities and decision-making skills. Fencing also teaches discipline, sportsmanship, and respect for your opponent, which can be valuable life skills both on and off the fencing strip.
Finally, fencing is a fun and social activity that can be enjoyed by people of all ages and skill levels. Whether you're looking to compete at a high level or just looking for a new hobby, fencing can provide a challenging and rewarding experience.